The Cateran Trail Ultra is a pretty tough race, not just for the runners but also for their kit. And sadly, it was as much as my trail shoes could bear. To be honest, they were practically falling to bits before the race so the decision was taken to send them to the bin.
Adidas Kanadia TR2
That's them---->
My second pair of Kanadias (and not my last; I have replaced them with a pair of Kanadia TR4), these trusty shoes racked up over 1090 miles (the previous pair managed 1111) and I would recommend the Kanadia to most runners as a good value, durable,comfortable trail shoe. Compared to other shoes I use, they're heavier than my
Breatho Trails
and not as grippy as my Mudclaws, but they're probably more comfortable than either and fulfil a different purpose. The newer versions also seem to have a better sole so definitely recommended.
Anyway, the main purpose of this post is to remind myself and anybody else of the importance of recovery. As you will recall, I wasn't in the best shape at the end of the Cateran race. In particular, my legs were a bit sore, my feet were a bit sore, and my ankle hurt. So, I took a few days off until the club run on Thursday when I decided to go out and see how it felt. And it felt ok; my leg muscles all felt good and enjoyed the work out, but the ankle still wasn't 100% and had a bit of a dull ache. Until the next day when it was bloody sore. Walking was difficult all weekend and I ended up taking a walking stick to work on Monday. So, yes, the Thursday evening run was a mistake and I should have waited until the ankle felt completely recovered.
Fortunately, it seems to be properly on the mend now which is great news because we're doing a sponsored walk on Saturday to raise money for the Aberdeen Mountain Rescue Team. It ought to be a good, but tough day out. If you would like to sponsor us, you can do so through JustGiving: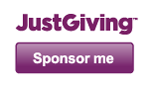 Thank you.