I do like a mountain marathon - the fresh air, the beautiful scenery, the teamwork, the challenge of navigating across difficult terrain. It's just that I haven't had a huge amount of success so far.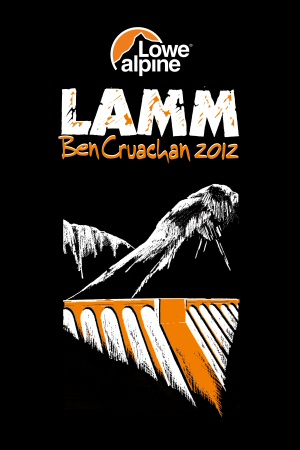 The
LAMM 2012
was based in the hills around Ben Cruachan, a monster of a mountain with its very own power station hidden away inside like a James Bond villain's secret lair. The event centre nestled near a wooded stream nearby - perfect midge country as we found out when we got there with clouds of the wee beasts causing a great deal of itching, rubbing, choking, and swearing all over the camp site. Switching on a torch was like witnessing a Brownian motion experiment with the wee blighters seemingly randomly weaving around in the beam of light. Nevertheless, registration was concluded, tents were pitched, food was eaten, drink was drunk, and it was off to bed.
Getting ready for the off!
As usual I didn't sleep that well so was already awake when the piper started up. We had a start time of 8:40 so plenty of time to relax, get up, go to the toilet, get breakfast, and organise our kit before heading off to the start area where we were given the map and directed to the bus which was to take us to the start area. The start area turned out to be at the dam, a quite spectacular spot with views across the reservoir towards the mountain in one direction, and over Loch Awe in the other. The temperature was warm (possibly a bit too hot but not bad), visibility was good, and we were in good spirits as we headed across the dam, marking up the map with the day's controls. At least, I was in good spirits. Ian probably wasn't feeling 100% and struggled a bit to catch his breath on the first steep climb. We reached the first control with no problems and headed off round the mountain. (If you want to see the route, check out Course C on
routegadget
).
1st Control
Glen Noe
Control 2 was another 2.5km of picking our way round the undulating hillside and Ian was struggling - it was obvious he'd picked up a bug or something but we both hoped it would pass before long. Unfortunately it didn't and after picking up control 3 in the lovely Glen Noe (a place I can't imagine many people ever visit which is a shame), he was finding it increasingly difficult as we headed up the steep hill to Lairig Noe. By this point he was sweaty, nauseous, cramping, out of breath and lacking in energy, but we had a go at control 4 before deciding to take a break, make up some soup, and take stock of the situation. The decision was taken to follow the track down, return to the event centre and retire from the event.
Dalmally Hospitality
Of course, we had got a lift down with Rhino and Gillian who were still out in the hills somewhere so we had two options: camp overnight in the midge infested "ghost camp", or find a way home. I was able to look up the train times (got to love smartphones sometimes) and found we could get a train from Dalmally to Glasgow in time to get the last train back to Stonehaven and arrive just after midnight. Even better, one of the organisers, a very nice chap called Dave (I think) offered us a lift to the station. Sorted. And with plenty of time for a drink or a coffee or something. Except that the hotel was "Closed for Winter". In June?
Ah well, at least the train turned up on time and we were on our way home before the rain came in. But the adventure was far from over. The guard who sold us tickets warned us that there would only be 10 minutes to make the connection at Glasgow and it was good that he knew we were on the train but that we should be OK. Unfortunately it turned out that there was some sort of over-long train in the system that was causing some scheduling problems and it became clear as we sat at Tyndrum that there was no way we were going to get to Glasgow in time. Just as I was getting extremely twitchy the guard turned up and told us that he'd spoken to the powers that be and there was a good chance they would arrange a taxi to pick us up at Crianlarich and take us to Stirling to meet the Northbound train. And that's exactly what happened. Except that the taxi wasn't there when we disembarked (the extremely helpful guard actually got off the train to say that he'd just spoken to the taxi firm and they would be there in a couple of minutes - I can't praise this guy enough, he was just brilliant), and when it did turn up it seemed to have trouble staying still but kept inching towards a collision with a wall. It turned out that the driver was having difficulty working the automatic hand brake as it was the first time she'd ever driven that particular car. She managed to get out of the car park without hitting anything and confidence was restored once we got out on the open road and demonstrated that she was in fact a very good driver. Not surprisingly, after all the excitement, I dozed for most of the journey to Stirling.
By this time I was getting peckish but there was no cafe, just vending machines, so I sulked and we settled down in the waiting room until the train arrived. Bang on time again, and this time there were no delays, and I even managed to be awake and not miss the stop, although it was a close run thing. Ian's wife, Julie, even met us at the station and gave us a lift home so there were no further incidents.
So, all in all, a less than satisfying experience. On the other hand, a road trip with friends and a good few hours in some of the finest countryside there is. I'm sure I'll be back on the Mountain Marathon circuit again, although I have a small worry: in 2010 I completed the Grampian Mountain Challenge, in the 2011 LAMM I retired during the 2nd day, in the 2011 OMM I retired at the start of the 2nd day, and now this. At this rate, I won't even reach the start of the next one.
NB
More pictures here
.